Local man, Kelvin Pastie, 31, an unemployed something or the other, believes he is one of the only people in the world to believe...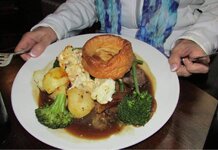 Rochdale's Indian youth have complained that there is a distinct lack of  late night 'English' takeaway food available in the town. "You know what it's...
Seven times unelected former UKIP leader Nigel Farage has announced he may be in favour of the UK's European Union membership after all. In an...
The governments of Canada and Mexico reached an historic agreement today to build 50 foot tall walls along their borders with the US on the proviso that the World Bank lends them the money for a lid.