Thousands of iPhone users around the globe were left feeling cheated this week as they eagerly awaited news of the latest model from technology giant Apple. Desperate to discover what their next upgrade will offer, they spent much of the week scouring Google and Apple News as well as reputable news sites like The Rochdale Herald.
However, it appears that some satirists have been lying in wait, as well as lying through their back teeth, and have seeded the internet with fake stories designed to lure in unsuspecting punters to boost their meagre advertising revenue, which appears to average 7 cents per day.
Many have flocked to Apple stores to reserve their spot in the queue for the September 16th release, and we managed to interview a few as they laid out their sleeping bags.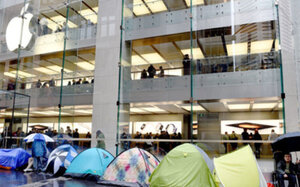 "I'm mortified." said a hobbling Steve Dickinson (39 and a half) from Rochdale. "One so-called news source claimed to have inside information from Apple, so obviously I clicked it hoping to be the first in my gym to have the lowdown on the new iPhone. It turned out to be a crock of shit, but I shared it anyway."
Apple intern Bill Preston was less than impressed when we showed him an obviously fake story which claimed Sharon from accounts had leaked information during a romantic encounter. "This is totally bogus dude! I've been bringing Sharon coffee and donuts for over two years and the bitch never told me she was sleeping around." he cried.
The Rochdale Herald contacted Nivekk77, the journalist at The Rochdale Herald, who admitted to being the perpetrator of that particular story. "It's all in the headline." he said. "It really doesn't matter what you write after that, as you have already got the hook in. All you have to do then is wait for the advertising revenue to come flooding in. So far we have made a whopping 18 cents from that story and it's still going strong. With any luck it may pay for electricity used in the two minutes I spent writing it."
Potential iPhone buyers have been warned to stay alert for fake articles in the future, and if they do happen to fall for such cheap scams, on no account should they share them. Pass it on.