There were scenes of jubilation around the country this afternoon after Paul Dacre "did the decent thing" and shot himself with a revolver after drinking half a bottle of scotch at Northcliffe House.
Nobody really cares why The Daily Mail editor took his own life this afternoon, but everybody is extremely happy that he has.
A colleague told The Herald;
"It all just got a bit much for him I think. He hadn't shaved in months because he couldn't look at himself in the mirror anymore. This afternoon he gave the okay for a headline on the MailOnline that suggested that immigrants were vicariously responsible for the murder of Jo Cox. He then went into his office, closed the Venetian blinds, then bang. It sounded like a gunshot. It was a few hours ago, nobody has been in to check."
Jo Cox was murdered by a Neo Nazi who apparently became radicalised after accidentally touching a copy of The Daily Mail in 2006.
"We advise our readers wear gloves when reading The Daily Mail, our writers take precautions." The reporter went on to say.
The article Paul topped himself over was written by two journalists who've never met, a sentence at a time. The "journalists" are very careful not to read the article in its entirety once it's finished. Chris Greenwood and Emine Sinmaz who wrote this article still have to go through a full decontamination process and see specialists at the end of every week to make sure they aren't a danger to themselves or the public.
The headline read "Did Neo Nazi murder Jo over fear he'd lose council house he grew up in? Terrorist thought property could end up being occupied by an immigrant family – and the MP wouldn't help him."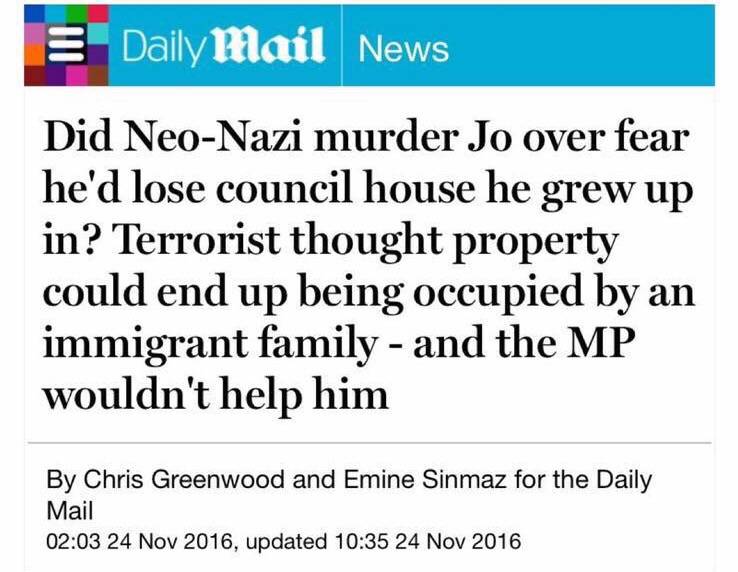 We'd like to pass on our condolences to the family of Mr Dacre at this difficult time, but hope Paul Dacre rots in purgatory.