Rochdale's creative industry seemingly received a huge boost last week as local TV production firm, Hot Pot Productions, was awarded a £6 million BBC contract to produce one hundred episodes of the revamped children's television classic The Teletubbies.
Hot Pot Productions is already in hot water though as plans for the revamped multi-faith format have been slammed by the militant wing of the congregation at Brimrod Methodist Church in Rochdale as "reeking of Cultural Marxism".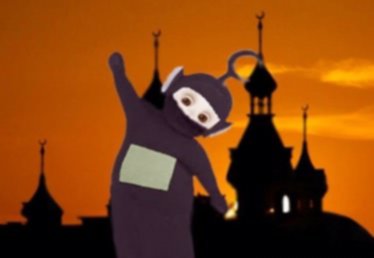 The new format introduces a host of new characters including; Vishnu, Shakti-Wakti, Pohammed, Ba-Bar and Steve; a Sikh, a Hindu, a devout Muslim and for the first time an openly gay interracial couple.
"We think it's important to ensure that all faiths and aspects of modern culture are represented in Children's programming," said Mahmoud Ansari Managing Director of Hot Pot Productions and coincidentally cousin of Waqeem Ansari, Director of Children's Programming at The BBC.
"Positive images of extremely devout Muslims chilling with  homosexuals and playing peacefully with other religions are quite rare in children's programming. If you get to children young enough you can make them think anything is normal, it's not called programming for nothing."
The new contract is a huge boost for Rochdale and will create at least forty jobs, with grants being made available from the EU creative industries fund, the BBC and the lottery to train apprentices from ethnically and culturally diverse backgrounds.
The All New Teletubbies will be on C'Beebies early 2018.