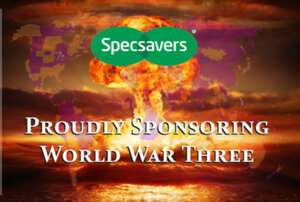 Specsavers has announced it has signed a two-year deal as official sponsors of the forthcoming World War Three, with effect from mid November. The company beat off stiff competition from other brands keen to associate themselves with the impending carnage including Bird's Eye Chicken Dippers, Toyota and new Doritos Bacon Cheddar Ranch flavour tortilla chips.
The agreement will see 20 movie-themed 'should've gone to Specsavers' idents screened on Sky News, Channel 4 News, CNN, ITV's News At Ten and, controversially due to their status of licence-payer funding, BBC's News 24, throughout WWIII news updates as and when they happen. In addition the eyewear brand will use the platform to promote its international Osiris collection of glasses.
Each ident has been written and developed by the brands in-house creative team and features snippets of actors playing readily identifiable political roles – only to be distracted by a short-sighted colleague bumbling around on set, accompanied by the humorous catchphrase 'should've gone to Specsavers!'.
Specsavers global marketing director, Richard Vannk-Socks, said: 'We are really excited to develop this relationship with several major news broadcasters for such a prestigious property on their national terrestrial and digital channels. The campaign allows us to reach a really broad audience and achieve dual objectives – support one of the UK's most stylish eyewear collections and introduce even more people to our popular catchphrase. These news outlets provide a perfect blend of always-on reach to help keep the UK's largest optical partnership front of mind, and a rich contextual canvas to evolve one of the nation's most-loved communications ideas as the chaos and destuction of the impending and inevitable apocalypse unfolds."
WWIII is due to begin mid November, when the newly formed Putin-Trump Alliance are expected to invade Latvia prior to annexing the rest of Europe.