The European Automobile Manufacturers Association (ACEA: Association des Constructeurs Européens d'Automobiles) looks set to cease the production of right-hand drive vehicles by mid-2019.
The decision comes after months of debate amongst its members, which include BMW, DAF, Daimler AG, Fiat Chrysler Automobiles, Ford Europe, Hyundai Europe, Iveco, Jaguar Land Rover, Opel Group, PSA Peugeot Citroën, Renault, Toyota Europe, Volkswagen Group, Volvo Cars and Volvo Group.
British opinion within ACEA seems to have been roundly ignored by European members, which will come as no surprise to many as the presidency of the association has historically been rotated among French, Italian and German automobile manufacturers. The incumbent president, Dieter Zetsche has however been reelected to serve through 2017. His office released the following statement:
"It is with mixed feelings that our members have agreed the cessation of the manufacture of right-hand drive cars, vans and trucks with effect from Q2, 2019. This decision has not been reached lightly, but for obvious reasons it has been deemed uneconomical to continue production in light of the predicted drop in car sales to those countries who still drive on the left."
The statement continues for several pages, making oblique references towards Brexit, impending recession and decreased bargaining power in far-East negotiations, concluding: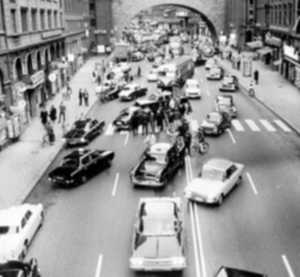 "Although this will obviously cause some degree of inconvenience to motorists who still resist driving on the right side of the road, it must be accepted that in the long term it makes better economic sense to adopt a worldwide standard. This will reduce manufacturing costs significantly, and in most cases, the changeover will simply be a matter of repainting road markings and rotating signs on their posts."
It isn't just the UK that will be seriously affected by the decision. Many ex-British colonies still drive on the left, notably Australia, India and Pakistan, along with countless island nations which are too small to have a say in the matter.
Some experts have already pointed out that as an historically seafaring nation, the British have been sailing on the right for centuries and that all aircraft are commanded by the pilot sitting on the left, so how hard can it be?