In a move that is sure to delight anti-refugee groups throughout the country, the once amusing Northern 'comedian', Jason Manford shockingly kicked an aid worker from a wall today.
The incident happened when Herald journalist, Steven Black visited the Facebook wall of Manford, 35 and-a-half, in the early hours of this morning (on his own time) in an attempt to promote a charity event aimed at raising much needed funds for The Refugee Council.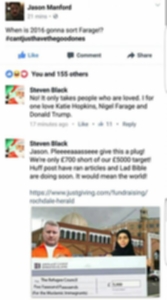 Seeing a status update reading "When is 2016 gonna sort Farage?", Black sprang into action. "Jason. Pleeeeaaasseee give this a plug! We're only £700 short of our £5000 target!" he exclaimed in a comment, ending "It would mean the world!"
"I assumed that as Mr Manford obviously had no love for the recurring leader of UKIP he might do something decent and repost the link to our JustGiving page." Steven explained. "At the very least he might have politely declined, but no, the next thing I knew my plea was unceremoniously deleted from the post without so much as a by-your-leave."
It has to be said that Manford's reaction has come as something of a surprise for many, as the 'comedian' is well known for his charity work. In 2015 he and his wife generously donated a used umbilical cord with attached afterbirth to the NHS. "We were overwhelmed!" said a spokesperson from St Mary's Hospital in Manchester. "That placenta could feed a student midwife for at least a week, but the cord had a knot in it."
The Herald didn't attempt to contact Mr Manford – who is currently wowing audiences in the role of Caractacus Potts in a blockbuster production of Chitty Chitty Bang Bang which is touring a few pier ends and holiday camps – as we were too cross. However, if we had done he would probably have told us to fuck off too.
Do you care about the plight of innocent refugees who have been forced to flee their homes in terror, or are you a heartless, Twitter-shagging bastard like Jason Manford? Show you care by visiting our JustGiving page and leaving a small donation. Don't forget Gift Aid!