Disgraced pornography enthusiast, first class passenger, casual sext pest and Rochdale MP Simon 'Spanker' Danczuk is said to be "absolutely buzzing" that he's not the sleaziest MP this week after Keith Vaz, the former chair of The Home Affairs Select Committee, was caught up to his elbows in rent boys and drugs yesterday rather than the usual bribery allegation.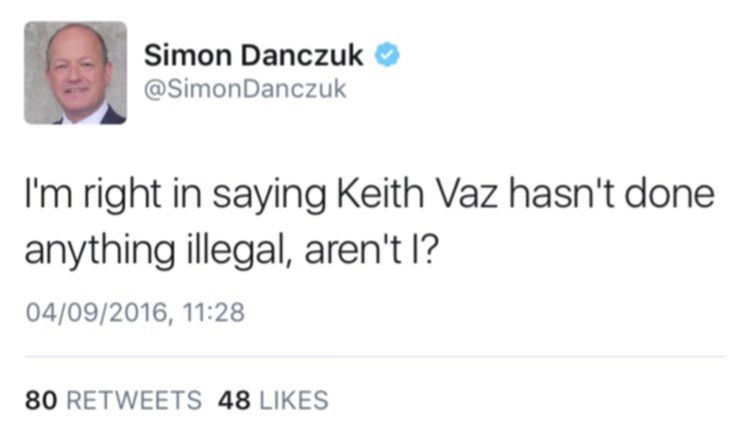 As far as we're concerned Mr Vaz can do whatever he wants, with whomever he wants provided they want to do it too. Unless of course it involves using your position to sell dodgy passports to Indian billionaires, take bribes from solicitors, use your expense account to pay for a shag pad for rent boys or be the MP in charge of curbing the Cocaine Trade and then try to buy Cocaine for fucking prostitutes!
Keith's life is obviously a tragedy. It's a shame that anybody should feel the need to hide their sexuality from their friends and family. It's nothing to ashamed of. However, being a massive hypocrite and a corrupt MP is something to be ashamed of.
And so to Danczuk. You know you're having a shit week when the two people to come to your defence are Katie Hopkins and Simon Danczuk or perhaps he's just double checking what he's allowed to do when he asked "he hasn't done anything illegal has he?" Who knows with Simon?
So Keith. Provided the boys you have been having sex with are men and weren't vulnerable, were gay and weren't trafficked into the sex trade we're cool with it, well apart from the infidelity bit, that's pretty fucking awful. I had a girlfriend cheat on me with a woman in 2002, I felt pretty hard done by to be honest. Also can we have our £75,000 in rent for your shag pad back please