There was OUTRAGE in Rochdale this afternoon after council documents were leaked to The Rochdale Herald about the forthcoming closure of the world famous Stansfield nudist beach.
Naturists have been frolicking stark bollock naked on Rochdale's Stansfield beach since the 1890's without incident and with almost the entire support of the local community.
This is not the first time this has happened this year after women were forced to cover up and nudists were banned from the beach in Southend, as covered by The Southend News Network (the bastards), after local authorities received complaints that their bare Essex flesh was offending village elders and local RELIGIOUS leaders. Terrible.
Recently a number of complaints have been made by local residents and visitors that the naturist beach is "offending the CULTURAL sensibilities" of local RELIGIOUS groups.
Well we all know what that means don't we? Spoiling our fun, and our editor James Grossweiner Jnr and Brenda in accounts were killing it in this year's naked beach tennis tournament.
"Last week we had those wimin in there berkinis coming over hear and frolicking in our surf, like it's normal or something not to have your tits on show when your on the beach in Lancashire." Local resident Anne Bothwell told us as we orbited her for an interview. "And now they have the cheek to tell us to cover up, I didn't get these tattoos so nobody would get to read them. Cultural reasons my arse."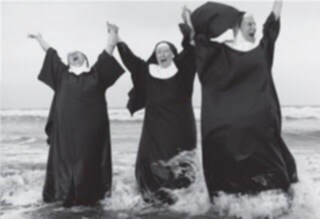 If you want to legally get your pecker out in public in Rochdale you'll still be able to on Stansfield beach until the end of September but as of October, no more nudity.