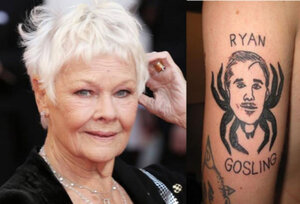 Dame Judi Dench, 81 years young, gave the world it's first sneak preview of her first ever tattoo at this afternoon's premiere of Aladdin at Rochdale's Gracie Fields Theatre.
'Ive been well into Ryan since he was in the Mickey Mouse Club, he's well f**cking lush' cooed Ms Dench.
The James Bond star hit the headlines in 2014 when she allegedly tattooed 'Kiss My Butt' on a drunken Harvey Weinstein's derriere; it later turned out to be a hoax, the 'tattoo' was in fact only an iron-on transfer and Mr Weinstein was lucky to escape with only second-degree burns.
Tickets for Aladdin starring Helen Mirren are on sale from the Gracie Fields Theatre Box Office on 0843 208 1835
Lines open: Monday – Saturday 9.30am – 8pm Sunday 10am – 8pm
In person: Monday – Wednesday 11am – 4pm