Transport for London have overstepped the mark by introducing gay traffic lights according to Rochdale father of two, Arthur Branesell.
"Its outrageous! There's one with two women holding hands. How am I supposed to know if I can cross the road or not or if it's just my wife and daughter?"
Mr. Branesell, 39, added "There's one with all sorts of weird symbols on it. I thought it was a Muslim thing to start with, but now I know it's about the gays I'm not sure what to think. It's wrong, I know that."
TFL introduced the seven different replacements for the traditional green man lights in the area around Trafalgar Square during June to show solidarity with London's lesbian, gay, bi and transexual community during the capital's annual Pride festival.
"It's an outrage" said tourist Woddeck Hunt of Cleckhuddersfax. "I blame the immigrants." Asked why he replied "Sorry, I didn't hear the question."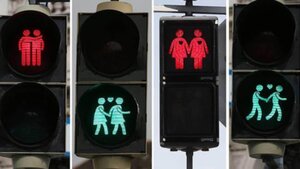 Beardy hipster Quentin Kensington-Pratt told me "I have loads of LGBT friends. They're not my "gay friends" they're just my friends. That's why I had to mention them. I mean, this sort of blatant support for the LGBT community is going to create a modern ghetto. People shouldn't feel they have to be open and honest about who they are just because TFL bandies a few green dykes around. If everybody accepted the gays where would that leave those of us who have nurtured friendships in the interests of Hipsterism?"
A straw poll of Londoners showed that, to be honest, nobody had really noticed the change. After all anyone who has been using a pedestrian crossing for more than a week takes it for granted that green means go regardless of what the picture is. Those that had noticed the new images generally reacted with "Oh yeah. Cool." although one lady called Kevin told me she thought it was a bit much and that it was unnecessary in polite society. She assured me that she was, indeed, a lady.
One critic, Ivor Shriveldick of Fosdyke's University Council, Kingston, said "This is a clear contravention of the Vienna Convention on Road Signs and Signals."
This was refuted by Maggie May, spokesperson for Trans-sport for London who said "A full health and safety risk assessment was carried out before installation."
Although the installation was originally intended to be temporary the lights are still in place three months later. "OMG," said a student from Leeds who asked not to be identified as Lydia Bedpan of Meanwood. "Does that mean men have to walk on one side and women on the other side. It's so confusing. Why can't they just change them back?"
The Mayor of London, Sadiq Khan, has not announced any plan to replace the signals.