In what is seen as a bid to rescue UKIP from self-inflicted obsolescence, leadership hopeful and Anthony Head lookalike, Steven Woolfe has today called for a referendum to secure Britain's opt-out from Global Warming.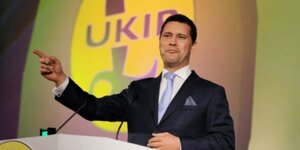 "We wan't to take back control of our climate from unelected foreign weather systems." cried Woolfe. "For centuries British weather has been the envy of the World, but all we hear these days is that Global Warming will be the death of us. I don't remember us voting to be a part of that, so I say it's time to close our borders to stem the uncontrolled influx of migrant weather from all corners of the world. The EU referendum has shown that the British public believe we can stand alone on the World economic stage, so it stands to reason that they will support our call for Meteorological Independence."
The Herald decided to put this to the test, so we sent our intern Douglas out onto the streets of Rochdale with snow boots, an umbrella and a bottle of factor 50 sunscreen.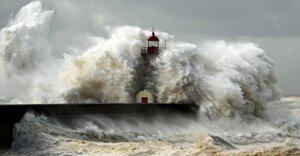 "It's an absolute disgrace!" said Gillian Duffy, Rochdale's favorite lollipop lady and political pundit. "We cut short our holiday in Skegness because of the horrible foreign weather. As soon as we arrived at the caravan site we saw a gang of dirty black clouds swarming across from the continent. Everybody was talking about it at the bingo."
Retired Rochdale weatherman, Michael Fish has first-hand experience of the negative effects of overseas climactic events on the unsuspecting British public. "I warned them back in 1987 that there was a storm coming, but nobody listened. The nation awoke to scenes of utter devastation as chimneys were toppled, trees were uprooted and the roff blew off my shed." Douglas was quick to show him a YouTube video in which a smiling Mr Fish appeared to reassure viewers that no such thing would happen. "I was quoted out of context," retorted Fish "that video has been edited."
Over the past fifty years, there have been literally several reports of extremist foreign weather spreading terror in the UK, from tornadoes in Maida Vale to the "wrong kind" of snow bringing our rail networks to a standstill. We contacted the BBC's hottest weather presenter, Carol Kirkwood for her opinion on Steven Woolfe's proposal. "Is he for real? He clearly has no idea of how weather works." she laughed. "The guy's a scaremongering, bullshitting fucking cockwomble! He should stick to doing the coffee commercials."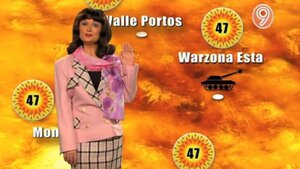 "Well, she would say that, wouldn't she?" replied Woolfe when we presented him with Kirkwood's expert opinion. "Carol is Scottish and therefore pro-European. She's probably just jealous because Scottish weather is always shit."
Douglas was unable to contact Wincey Willis due to a restraining order.