There were jubilant scenes in Rochdale last night as tens of Faringe Estate residents gathered around makeshift bonfires and burning cars to celebrate picking up the prestigious "Shithole of the Year Award" from The Daily Mail.
It's been a long road for Faringe, less than ten years ago the estate was barely the least attractive place to live in Greater Manchester, let alone the whole of Great Britain. But thanks to cuts in public spending the estate has been able to harness the perfect storm of austerity, dreadful policing and falling education standards to really rise to the top.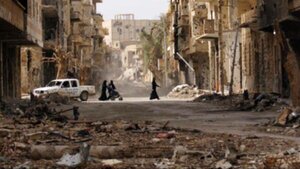 One of the judges from the Daily Mail, Neville Thatcher said "Faringe is just, just awful and I've been to Grimsby. If the world needed an enema, Faringe would be where you insert the pipe."
Faringe narrowly pipped The Mier Estate in Stoke on Trent in Staffordshire for the title after being described as "truly excremental".
Better luck next year Mier.