This weeks news, after a glance at the front pages…
Ant and Dec secure trade deal with Australia ahead of 'Hard Brexit'. Tesco set to be first supermarket in UK to stock ostrich anus.
Lags in Wentworth Scrubs forego the usual hunger strikes in favour of dressing up as annoying children and singing shit songs all day. Screws too confused to intervene; courts thrown into chaos.
Two cunts in a room made of gold. That's pretty much it…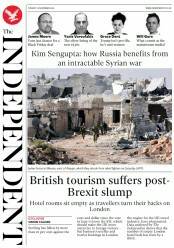 As the world looks on, laughing (except America, they have their own shit to deal with) holidaymakers boycott the UK as a holiday destination. Popular holiday spots fall into ruin. Once thriving high streets begin to resemble war-torn Syria.
Leavers and Remainers finally find some common ground, as practically everyone in the UK wants Nigel Farage to fuck off out of Europe.