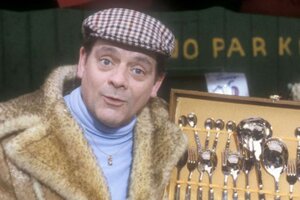 Fresh tributes were pouring in today from the Rochdale community as it was announced that much loved and admired local celebrity David Jason had passed away once again in the early hours of this morning.
Jason, 62, initially passed away last month, leaving behind a loving son Graham and doting wife Barbara. It is believed that a clerical mix-up attributed to the installation of a new software system in Rochdale Borough Council's office of births, deaths and marriages is to blame for the announcement this morning that he had once again passed away peacefully in his sleep. Unfortunately, the records had also been ammended citing Jason's son Graham as his spouse, whom he now married in a Civil partnership ceremony in 2006. Barbara Jason, his wife as of yesterday, was of this morning unavailable for comment.
The funeral for David, also known in local circles as "Del Boy" given his striking resemblance to on-screen actor Roger Lloyd-Pack who played the character Trigger in the popular BBC sitcom Only Fools And Horses, will be held once again at Brimrod Church in Rochdale on the 31st of July at 1pm.
No flowers