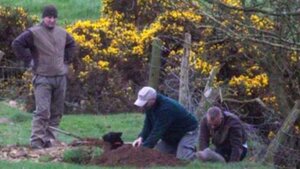 Rochdale Constabulary have today released figures for what they describe as a 'disturbing and significant increase' in the barbaric and outlawed practice of Pokemon baiting.
The announcement today coincides with the appearance in Rochdale Crown Court yesterday of three men charged with conspiracy to commit an offence under the Pokemon Cruelty Act 1993. The men were caught in the early hours of the morning some time last week in Rochdale's Falinge Park, allegedly in possession of a spade and three hunting dogs. All three entered a plea of 'not guilty', claiming that they were simply 'lamping' for Ratattas, which are classed as vermin and are not protected by law.
It is believed that a sophisticated underground network exists of back street Pokemon baiting clubs, where large sums of money change hands betting on the outcome of illegal fights. Breeds such as pit-bull terriers are forced to fight against rare beasts such as the Snorlax, a docile creature that generally only wakes to eat.
So far, local Labour Councillor Simon Danczuk has yet to be charged or indeed taken into protective custody under the animal cruelty act. We will post updates as we receive them.